Veterans Park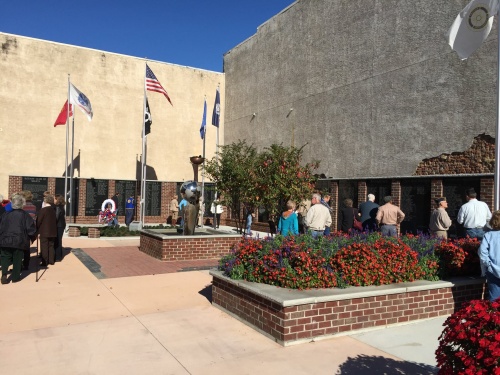 The Rotary Club of Sparta and the City of Sparta have partnered to develop a park in downtown Sparta to honor our military service men and women. This place of honor provides the community not only an area for private reflection, but also a gathering place in downtown Sparta.
Wall of Honor in Veterans Park
The Wall of Honor is made from granite panels encased in brick and forms the perimeter on two sides of the park. Any veteran who has resided in White County at some point in their life can have their name engraved on the Wall of Honor.
To have a name included on the Wall of Honor, fill out this form. Service verification has to be provided. A copy of a formal discharge certificate or a copy of the DD-214 will provide this verification. Veterans of family members can seek assistance from the local Veterans' Affairs Office to obtain service verification. A donation of $100 is requested per name to offset the cost of the engraving. Veterans that were killed in action, held as a prisoner of war, or is missing in action will be included on the wall at no charge.
Donations and Sponsorships
Donations and sponsorship are available to help support this place of honor.
Levels of Support


Platinum - $5000
Gold - $2000+
Silver - $500+
Bronze - $250+
Friend - $100+

To make a donation or to sponsor an item, please fill out the information and send to:
Rotary Club of Sparta
PO Box 6292
Sparta, TN 38583


Spartarotary2018@gmail.com


Click here for a list of veterans names and their location on the Wall of Honor.